This might be a little basic for some readers but I receive plenty of questions relating to Roth IRAs where people just want a simple step-by-step guide on how to open one at Vanguard. If that's you, here's what you need to do.
First, a little background on the Roth IRA.
The Roth IRA is one of the tools you have to fund your retirement. You contribute with post-tax money, which means no up-front tax benefit today but that all of your investment growth (e.g. dividends and capital gains) will be tax-free.
Besides this obvious tax advantage which makes the Roth IRA an appealing investment vehicle, here's a few other benefits:
No required minimum distributions. There's no requirement to take money out of your Roth IRA as you get older. This is different from Traditional IRAs and 401(k)s which require you to start taking mandatory distributions when you reach age 70 1/2. This is valuable for tax planning purposes later in life.
It eliminates tax rate risk as the money will be tax free in the future (i.e. you don't need to worry about whether tax rates will go up or down in the future).
Perfect vehicles for tax-inefficient investments like REITs, taxable bonds, bond funds, peer-to-peer lending or TIPS that are often taxed at your ordinary income rate.
Unlike a 401(k), Roth IRAs can be invested in virtually any investment that interests you because you set up your own account.
In many states, Roth IRAs are exempt from determining your assets should there be a liability judgment against you.
Anyone who has earned income can contribute up to $6,000 (starting in 2019) to a Roth IRA and another $6,000 to your spouse's Roth IRA (whether or not your spouse is working).
However, there are a few complications if you make "too much" money:
You can only contribute to a Roth IRA if you're a taxpayer and either earn below $122,000 if you're a single filer and $189,000 if you're jointly filing (note this limit changes yearly)
These restrictions are easy to bypass by making a "backdoor contribution" which involves converting a non-deductible Traditional IRA into a Roth IRA.
In this guide, we'll be talking about how to open a Vanguard Roth IRA account if you're below the single filer or married filer income limits mentioned above. If you need further insight into the "backdoor contribution", be sure to read this article.
How to open up a Roth IRA with Vanguard.
To open an account with Vanguard we start by going here: https://apps.vanguard.com/web/cf/move-money/welcome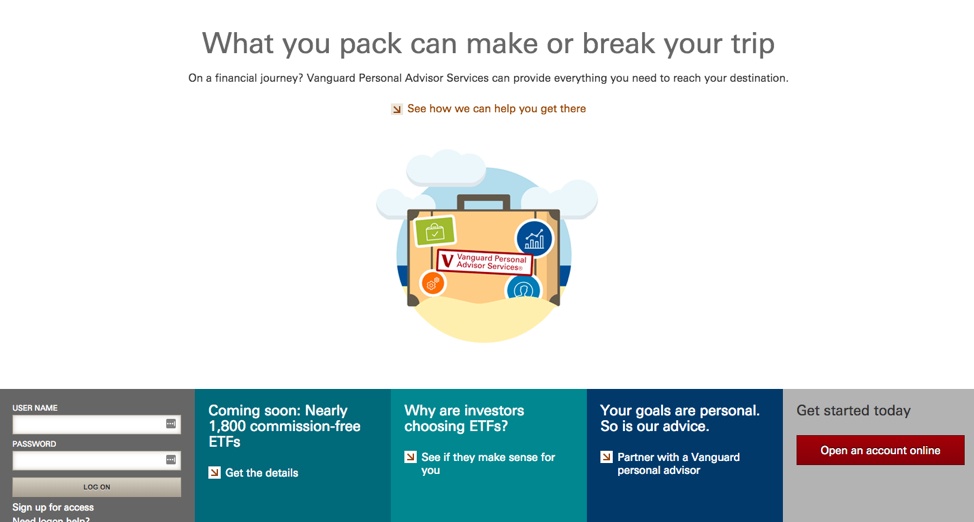 By clicking "Open an account online" you'll be provided with an overview of the account opening process and will be guided through a brief questionnaire on how you plan on funding the new account.
You can fund the account in three ways:
Check or transfer from your bank or another Vanguard account.
Rollover from an employer plan.
Transfer from a financial institution.
After choosing the option that makes sense for you, you'll then be notified of the key information you'll need (routing and your account number at your bank, current employer's name and address) to open an account as well as the overall account opening process.
Following this page, you'll go through five steps in order to complete opening an account and selecting your appropriate Roth IRA fund.
Create a profile
The first step in the process is choosing the specific account you're looking to open.
In this case, start by selecting Retirement as the reason for why you're investing followed by selecting the Roth IRA as your account type.
Following this page, you will need to fill out your profile – providing basic information such as your name, gender, birthdate, SSN, email, mailing address, citizenship status, and employment information.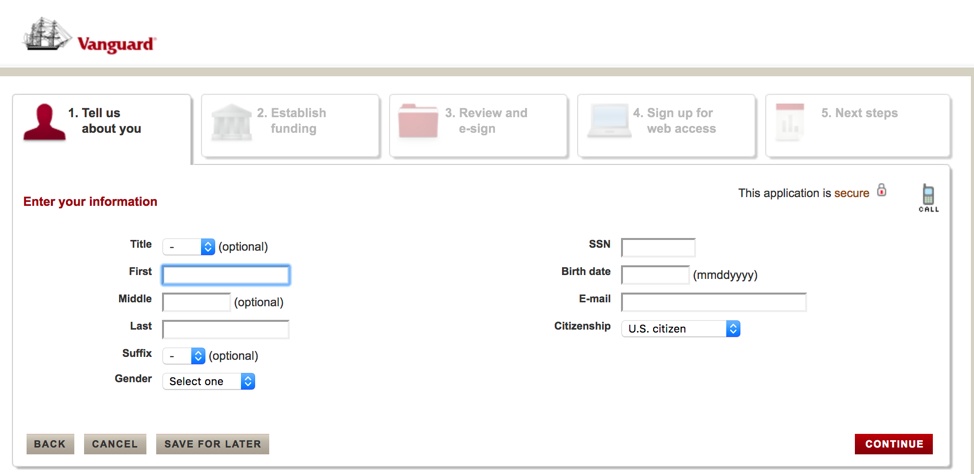 Establish funding
After completing your account profile, you'll be asked for bank account information so Vanguard can help pull the necessary funds into your account. Here, start by choosing your desired funding method, whether that's an  electronic money transfer, check, or simply skip the step to add funds in later.
For the screenshot below, I've illustrated the information you'd need to move funds via electronic money transfer. Note, for this process, the funds will be withdrawn from your bank account within 1 to 2 business days after your account has been approved.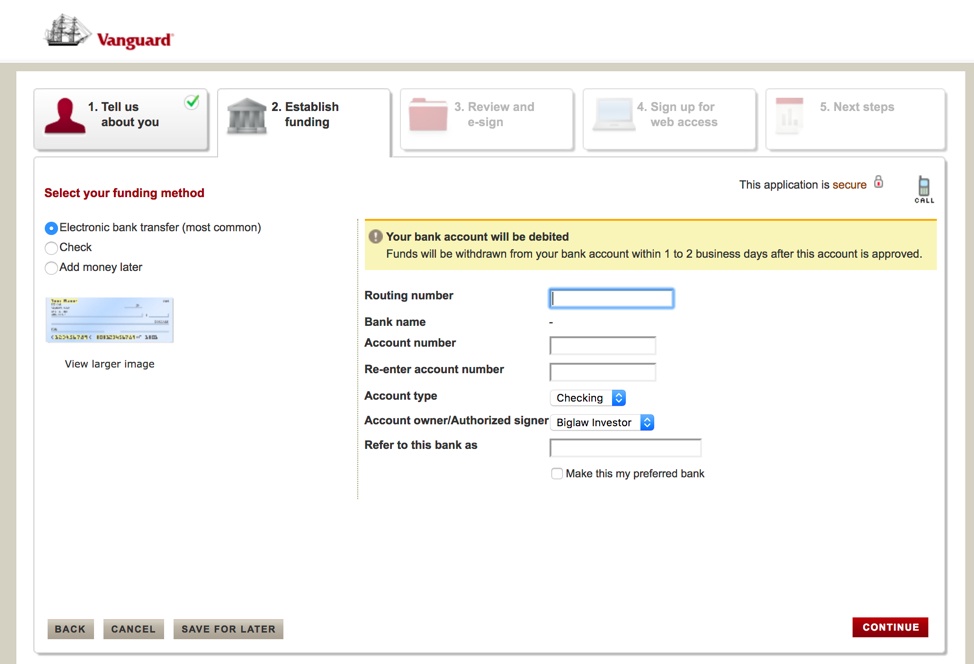 After entering the necessary banking information, the next step is determining the initial contribution amount for your Roth IRA account (note that the screenshot shows a maximum of $6,500 because the limit in 2018 was $5,500 plus there is an additional $1,000 contribution amount available if you're over 55).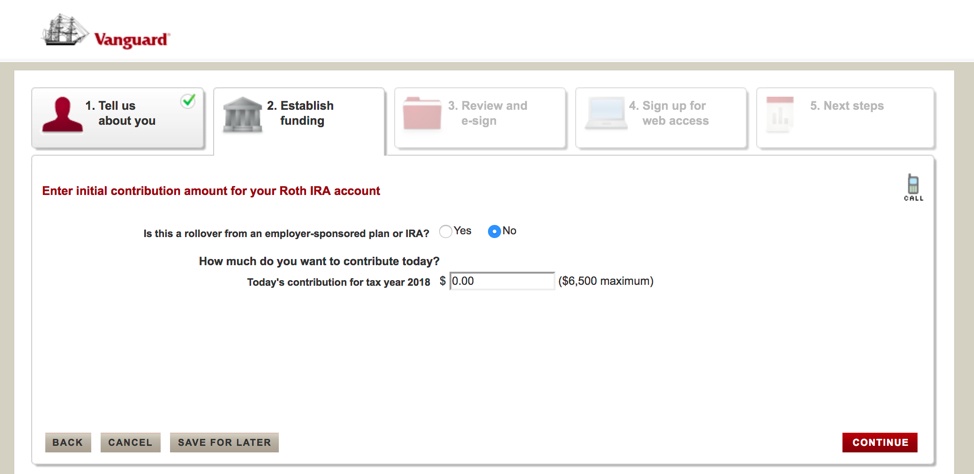 This will lead you to a screen where Vanguard will ask whether you'd like to reinvest your dividends and capital gains or transfer the money to a money market settlement fund. Select Reinvest.
Review and e-sign
Now that you've completed filling in your application for opening up a Roth IRA, it's time to review. Be sure to check the details over and if at this point you're wondering when you'll be selecting what to invest in, don't worry this will happen later in the process.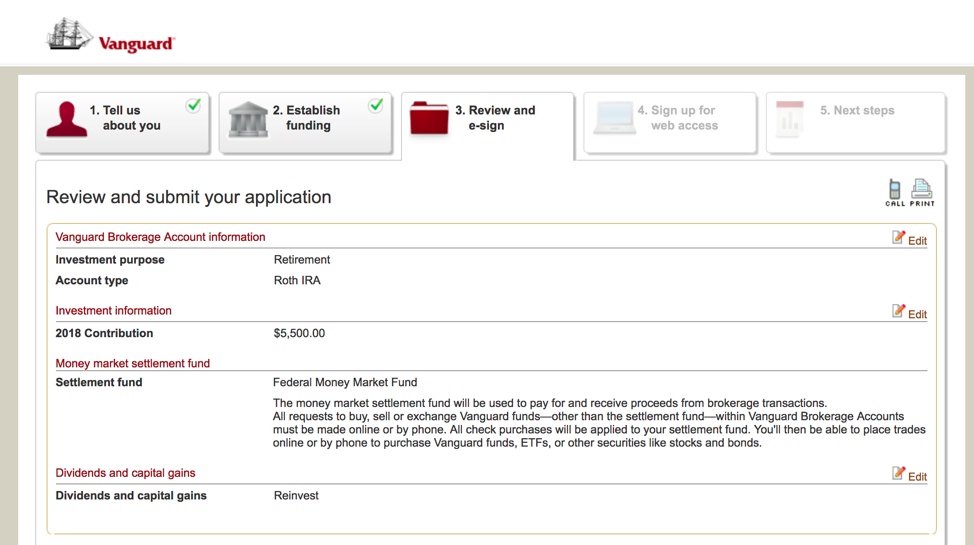 Sign up for web access
The next step will be to quickly register for online access so you can control your account online, change your profile information as needed, view your transferred funds, and carry out other functions.
Next steps after you open the account
After 1 – 2 days, Vanguard will notify you via email that your account has been confirmed and that they've received your funds. In this email, they'll illustrate next steps and walk you through how to select the specific fund you'd like to invest in. But basically, your money is sitting in a Roth IRA settlement fund (i.e. it's in cash) and you need to decide what to use that cash to purchase.
Below is an example of some target date retirement fund options you can look into based on your target retirement date.

A Roth IRA account is a powerful wealth building machine and a great investment vehicle. By following the above steps, you should be on your way to successfully opening up your Roth IRA and having your money work for you.
Joshua Holt is a former private equity M&A lawyer and the creator of Biglaw Investor. Josh couldn't find a place where lawyers were talking about money, so he created it himself. He spends 10 minutes a month on Empower keeping track of his money. He's also maxing out tax-advantaged accounts like 529 Plans to minimize his taxable income.