An ancient Greek mathematician named Archimedes of Syracuse lived for roughly 75 years in the period between 287 – 212 BC. Considered one of the greatest mathematicians of all time, he studied and understood, among other things, the power of levers. Some of his inventions included the block and tackle pulley system where sailors could use leverage to lift objects that would otherwise have been too heavy to move.
Archimedes understood the power of applying the right pressure at the right place. He was so confident in ideas he said:
Give me a place to stand on, and I will move the Earth.
And while this could easily devolve into an article about financial leverage, that's not the point.
The point is to get us thinking about how certain actions have a big impact on our lives.
Deciding whether to start contributing to your 401(k) account when you start at the firm? It seems like such a minor decision, one that could easily be put off while you sort out competing financial constraints (security deposits, student loans, silverware), but one that has a profound impact on your ability to build wealth. As we've shown in previous graphics, skipping the 401(k) contribution even for one year means you're giving up the profound growth on the right side of the chart. You may think you're skipping out on $18,500, but it's more likely that you're cutting off hundreds of thousands of dollars from your eventual nest egg.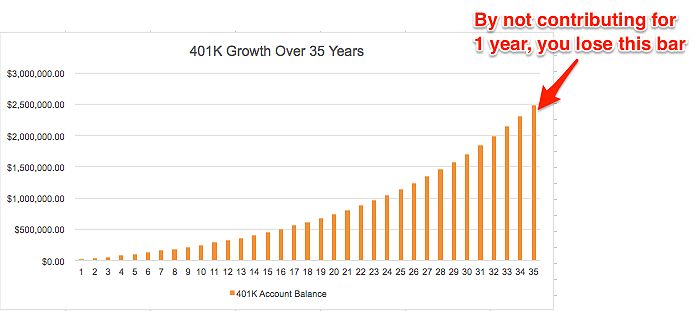 Or maybe you're thinking about where to live. You could live in the cheap apartment close to work where you'll be able to walk each day. Or you could get some more space by building in a little 30 minute commute. It may not seem like much at the time, but if you add 30 minutes to your commute, you've effectively created 15,660 minutes of wasted time each year (261 working days X 60 commuting minutes each day). That's not to say that one path is better or worse for YOU, because we are indeed all special snowflakes, but I think everyone will admit that one seemingly innocuous decision can have a major impact on your quality of life.
Once you start to think of the world with a long time horizon in mind, you'll start to value the smaller changes. Downgrade your Internet speed for a savings of $20 a month. You'll notice no difference in your service and you'll save $3,460 over a decade. That's enough to pay for a new iPad ever 2.5 years, which you can now easily afford since you made a tiny change.
You'll also start to appreciate the power of saving money. When I started, I didn't find the Backdoor Roth IRA too convincing. It seemed like you had to jump through a lot of hoops (not true) in order to save $5,500. When you're staring at $190,000 in student loans, saving $5,500 just doesn't feel like it's going to move the needle. It's depressing and I get it because I was there.
But by that very argument, if $5,500 feels inconsequential, you won't miss it when it's gone. What's $5,500 invested annually for 30 years at a 7% return? It's $597,769. That's a pretty significant amount of money that could generate $24,000 a year for you to live on using the 4% safe withdrawal rate. Or it could be a house. All because you started saving a small amount of extra money.
Yet, I know many of you will resist this idea. For whatever reason, humans aren't built to understand the power of a series of small seemingly insignificant steps that lead to big changes. But yet we all understand levers, right? Given the right position, you can apply a little force and accomplish something previously impossible.
Joshua Holt is a former private equity M&A lawyer and the creator of Biglaw Investor. Josh couldn't find a place where lawyers were talking about money, so he created it himself. He spends 10 minutes a month on Empower keeping track of his money and is currently looking for additional lenders to add to Biglaw Investor's JD Mortgage service which connects readers with lenders offering special mortgages for high-income professionals.